IMPORTANT: this type of checkout is only available if on the target the Exclusive checkout flag is set on Denied.
Access for Credentials can be request on a given Account.
The easiest way to do this is is by clicking the Account tab on the Home page.

In this list you can filter and search.

On the selected Account at the Actions column press the

icon to access the context menu where selecting the Checkout Credentials will display the Accounts' password, SSH key or PIN code on the screen.
The context menu can be triggered by right-clicking on the selected Account as well.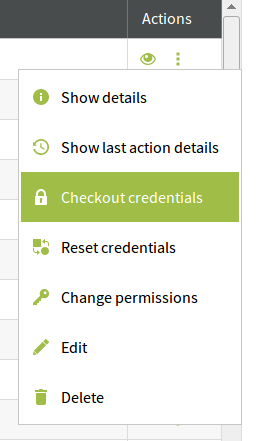 There is jet another way to checkout the credentials. Navigate to the Account details full screen window and click on the

icon.
To get to the full screen Account details windows simply click on the name of the account.